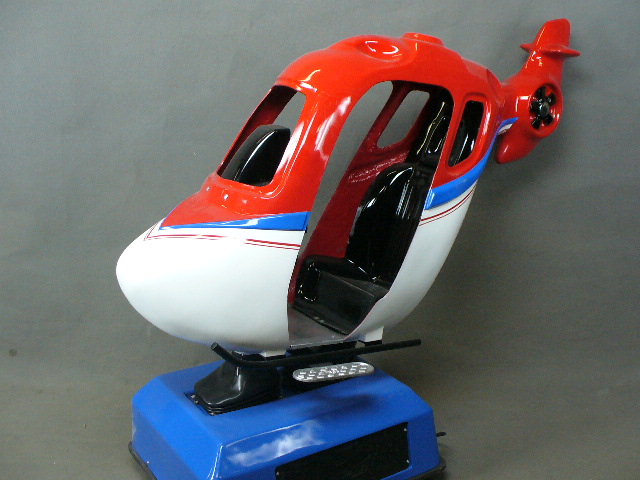 This coin-operated helicopter has children hovering with imagination. This chopper could be painted like a "flight for life" bird or an Army copter ready to fly into action. This is the type of coin-operated ride the American Helicopter Museum bought because it obviously fit their theme perfectly.
The circus is coming. This little vending machine coin-operated ride lets kids imagine riding the elephant into the 3-ring Ringling Bros., Barnum and Bailey Circus – "the Greatest Show on Earth."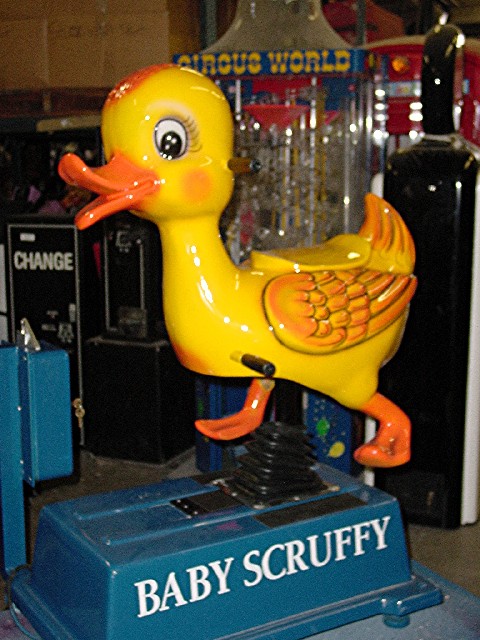 This feathery quarter operated kiddy ride makes the perfect mechanical addition to a petting zoo, corn maze, or farm attraction.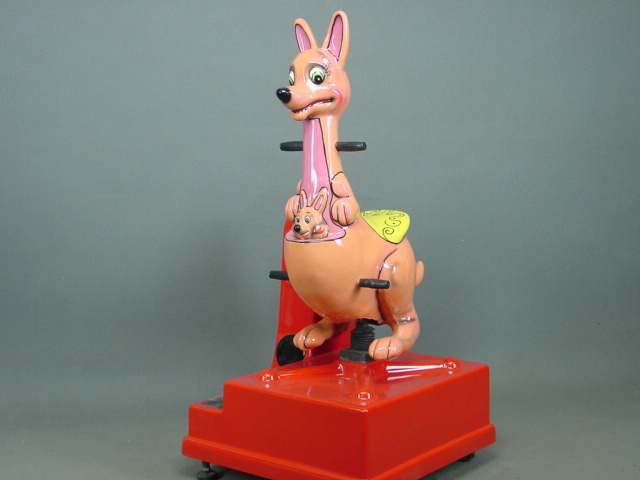 Notice cute little "Joey" bouncing with Mom. We custom airbrushed one of these amusement rides to match a family entertainment center's mascot that happened to be – you guessed it – a kangaroo.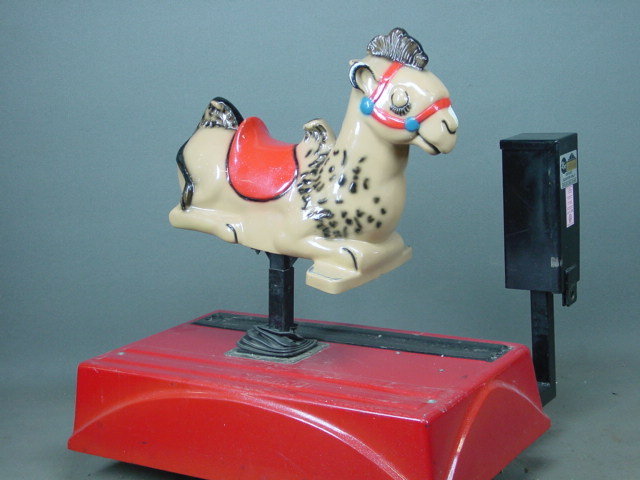 This coin-operated camel ride is smaller in size perfect for locations that have limited room. This sleeping camel is the perfect oasis for any child looking for a ride.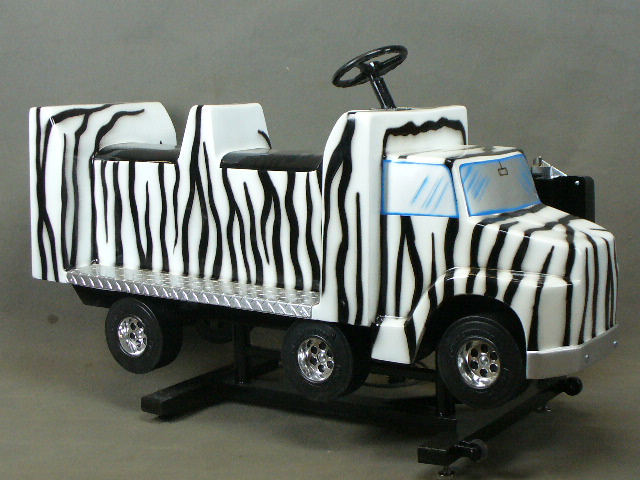 Creep across the savannah in search of wild animals on this quarter ride.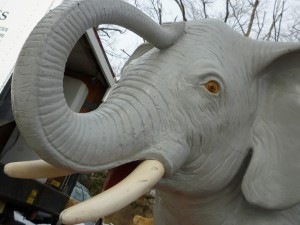 Imagine being on a safari riding this elephant. Only the giraffes will be taller. Or, you could be a proud riding at the circus. Whatever the case, this is a classic coin-op kiddy ride.
This is an adorable reindeer kiddie ride for year around Santa Claus & Christmas fun. This ride also happens to be a classic from the 1950s; that is why you'll also see it under the vintage section.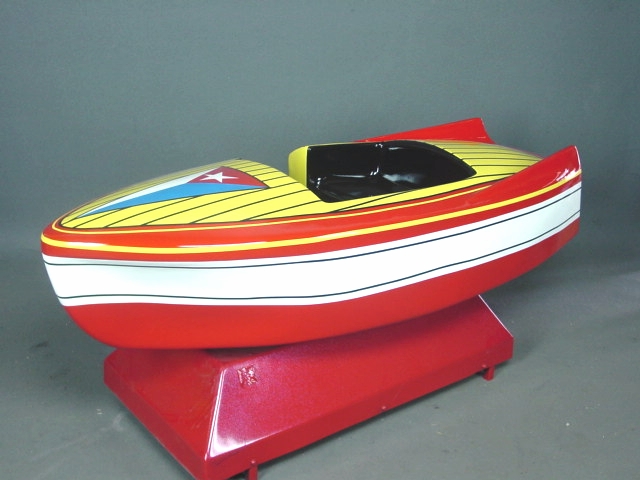 Is this a quarter-operated kiddie ride or a miniature Chris Craft? We customized a boat ride like this with the logo of a Cape Cod restaurant. In addition to earning quarters, the little coin-operated ride was also a nostalgic billboard for everyone that entered the restaurant.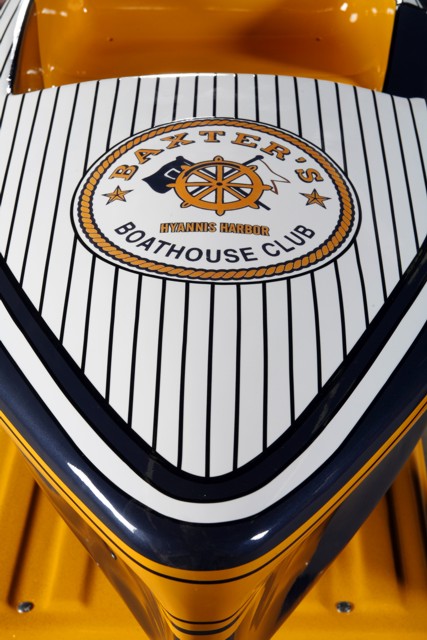 This is an example of how we often incorporate a company logo onto a ride. A ride then becomes more than just a vending machine, but it turns into a billboard to advertise your business, too.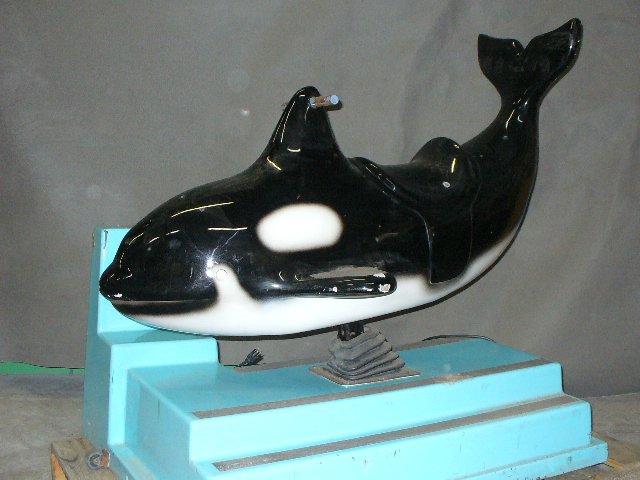 Is it Shamu? Or Willy from the movie Free Willy? Whatever the case, future marine biologists will get a kick out of riding this mechanical, coin-op Orca ride.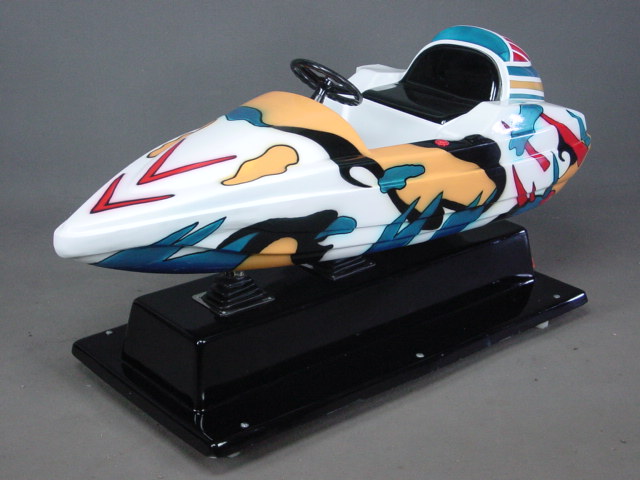 This ride skims the top of the water as it takes its young rider on a thrill ride at an entertainment center or in front of a ocean side store.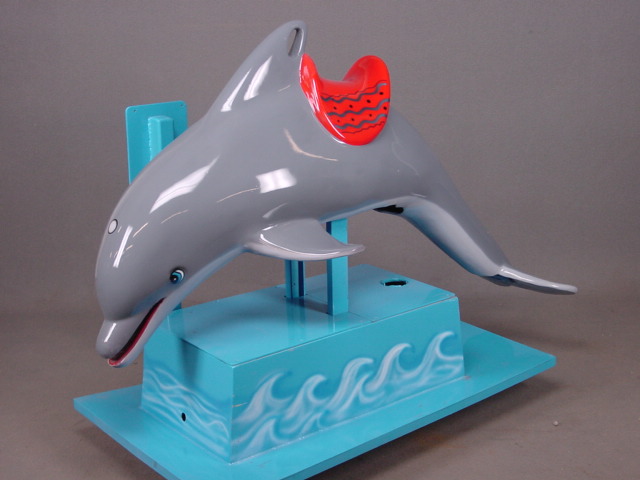 Whether you're a fan of Flipper or the Miami Dolphins, this coin-operated ride is the ticket to swimming fun. One customer bought his dolphin-loving wife this ride for her birthday. Certainly a kiddie ride would be hard gift to top!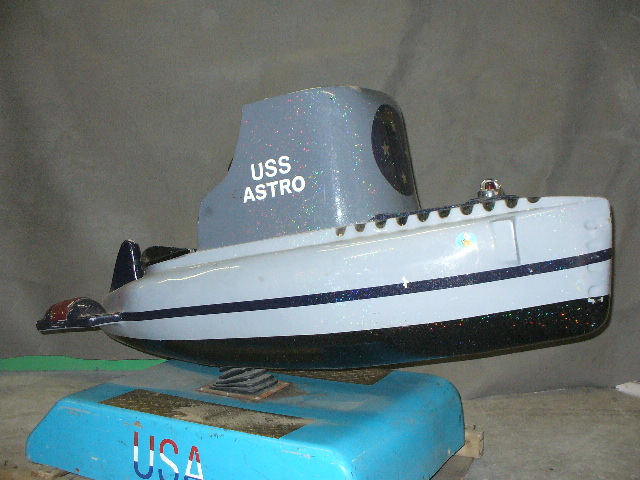 We could paint this coin-operated ride battleship gray as pictured, or we could paint it as the Yellow submarine…whichever!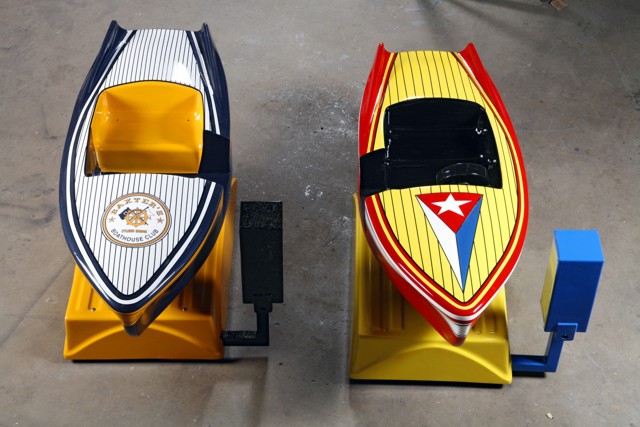 Fun little nautical project where we were asked to do the same style of boat with two different paint schemes.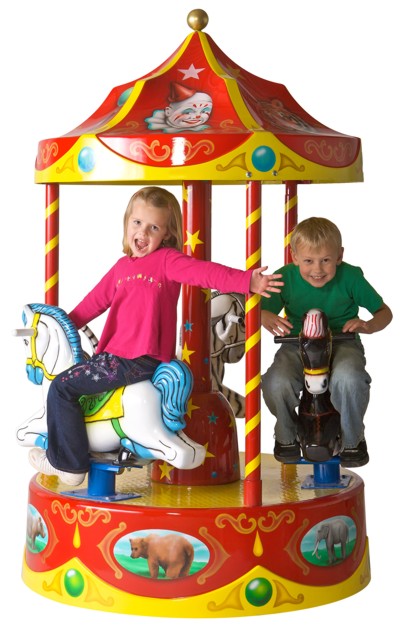 This is our show piece carousel. With intricate airbrushing and spectacular details. This carousel ride amazes both the young and old alike.oun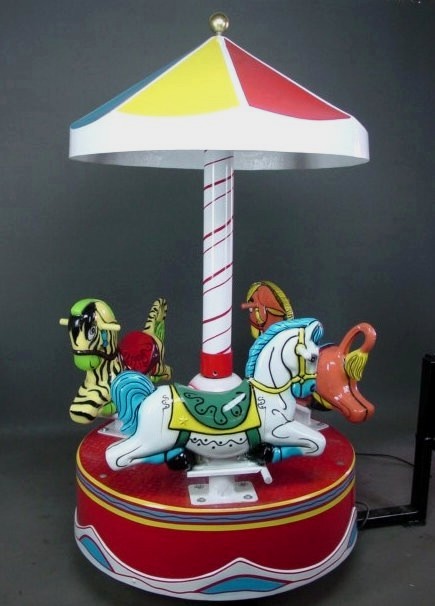 This carousel is a natural for any fun center, retail store front, or family entertainment center.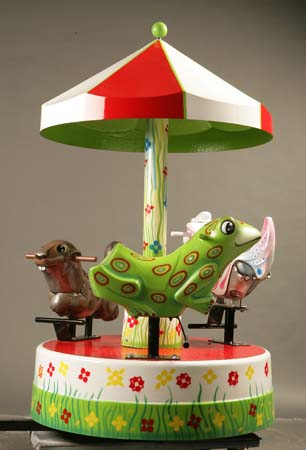 Horses aren't the only animals that fit on a carousel. We have several different combinations of animals to go on a coin carousel.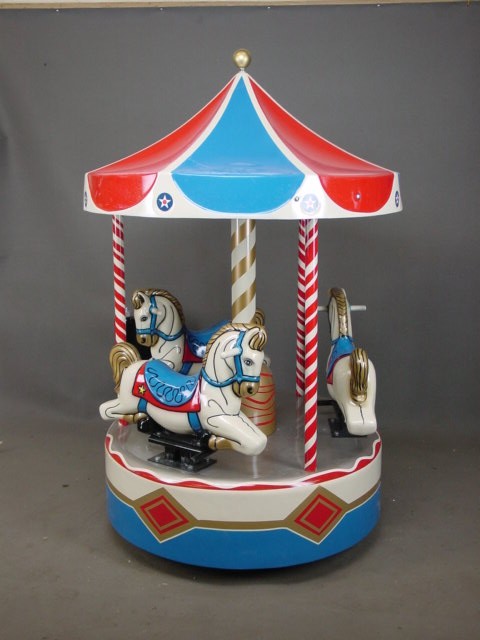 The classic carousel in coin-operated style. This kiddy ride comes complete with carousel music that we all remember. You can have this coin-operated ride custom painted in any colors.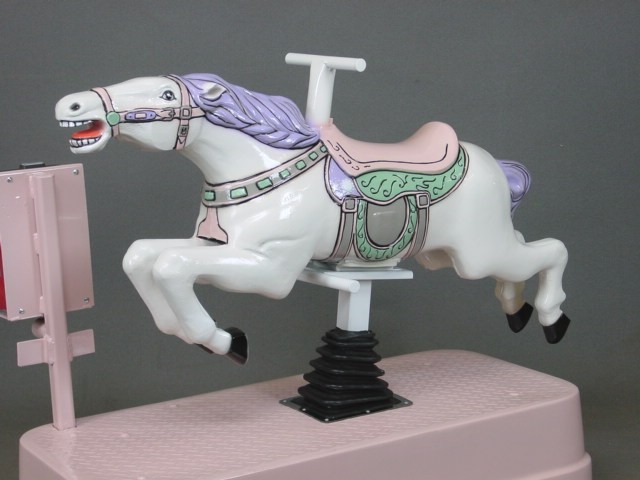 This particular color scheme is the example of the custom colors we did for ABC's Extreme Makeover: Home Edition. The interior decorator provided us with colors of the bedroom and we painted the coin ride to match.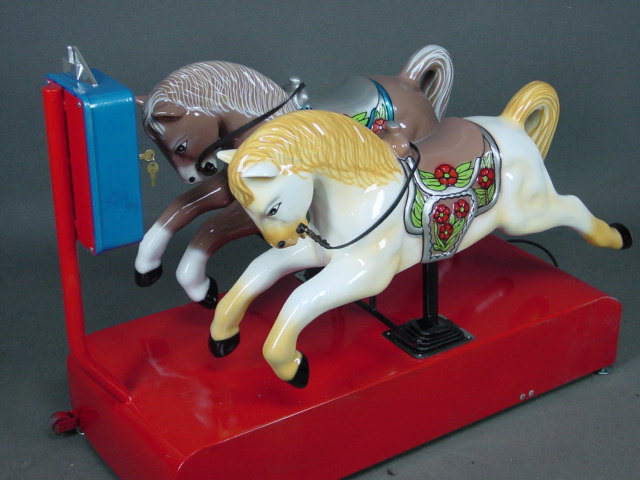 And down the stretch they come! Who is going to win? It will be a great race each and every time at home or at your retail store.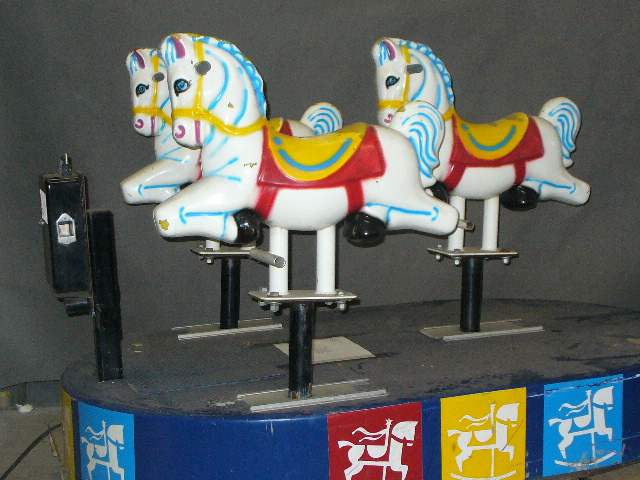 And down the stretch they come! Who is going to win? It will be a great race each and every time at home or at your retail store.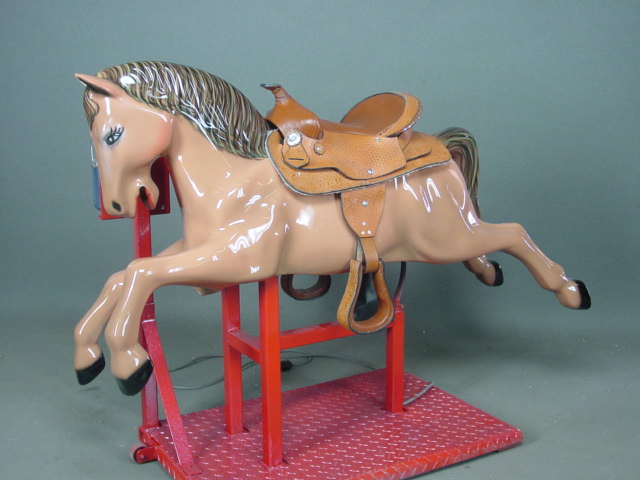 Whether you rode for a penny, a nickel, a dime, or a quarter. The leather saddle mechanic horse ride is a classic. We can even custom paint your coin operated horse to look just like your prized stallion.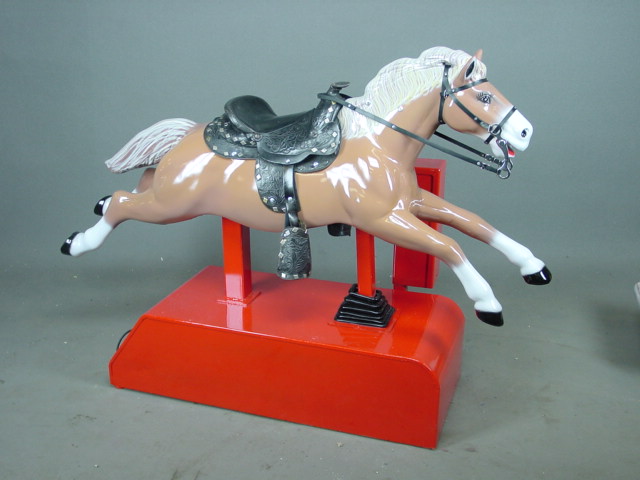 The original and true – quarter – horse! We can custom paint a horse any color you want. We often have people send pictures of their real horse, and we paint the coin-operated pony to match.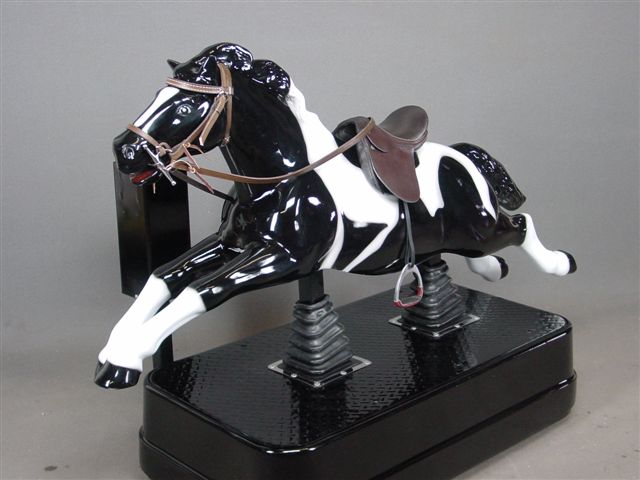 For you horse racing fans, fox hunters, and show jumpers, you can request an English saddle instead of a Western saddle.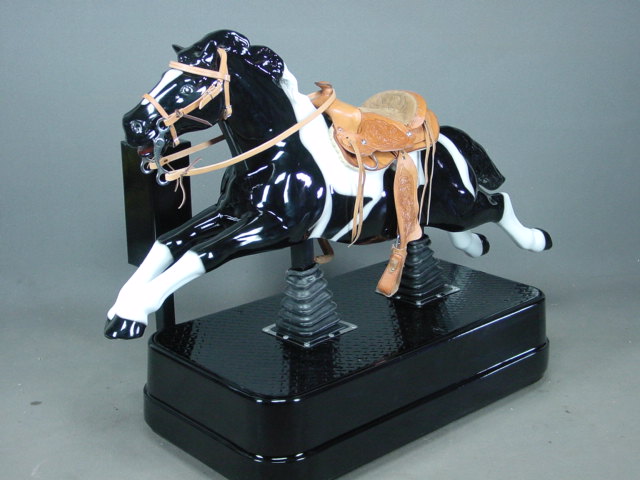 A paint horse is one of the favorite colored horses there is. They stand out in the pasture and in front of a store.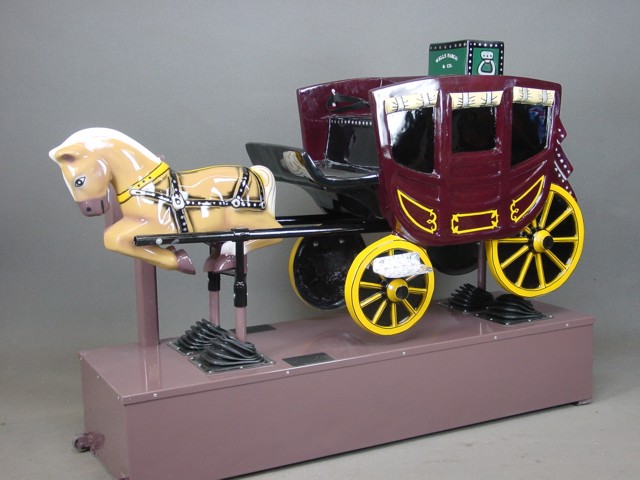 This mini stagecoach would fit in a number of themed play centers, museums, family entertainment centers, or retail store fronts. The Old West remains alive and well for every kid. We could even add your name to the treasure box up top!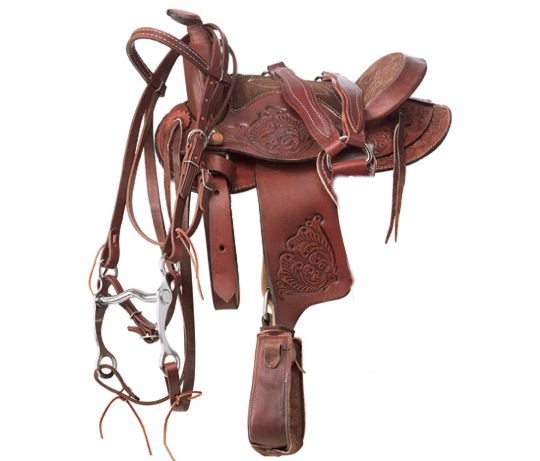 This is our pony saddle with matching bridle designed especially for mechanical kiddy rides like you used to see at grocery and drug stores. If the tack on your mechanical ride is in disrepair, these accessories can bring it right back to life. (Color may vary from picture)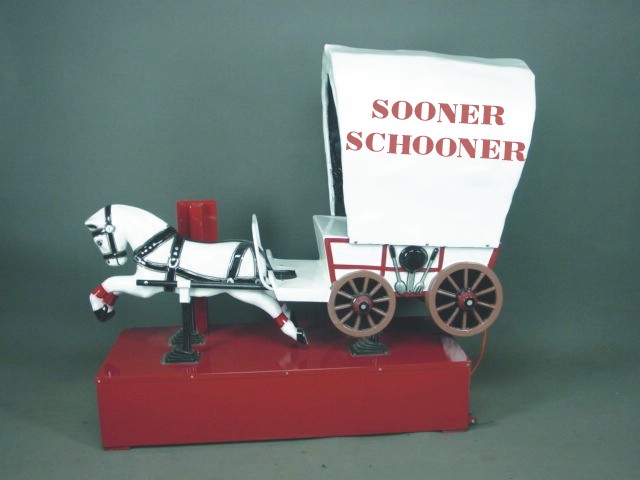 We did this special project for an Oklahoma Sooner fan. We even programmed the ride to play the OU Fight Song with the ride was in operation. We often customize rides to fit a buyer's specific wishes!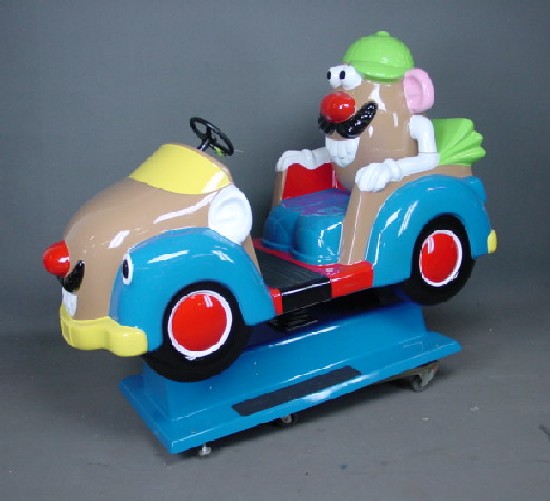 Ride along with a spud as your co-pilot. A putt putt golf course, grocery store, or fun center isn't complete without this famous Tater coin ride in the facility.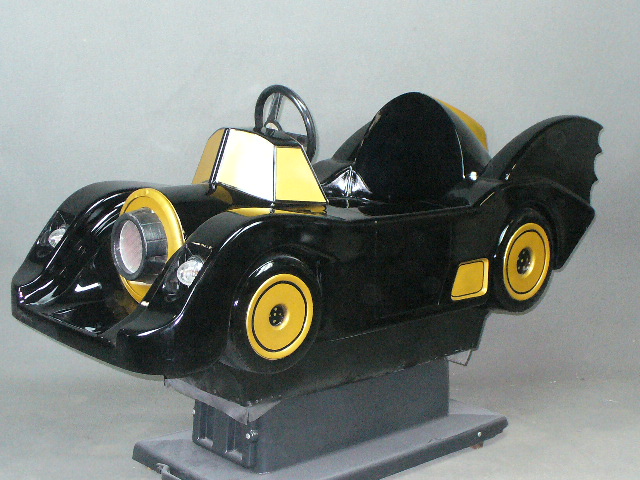 Fun little mechanical Batmobile coin-op kiddy ride for those who love Batman.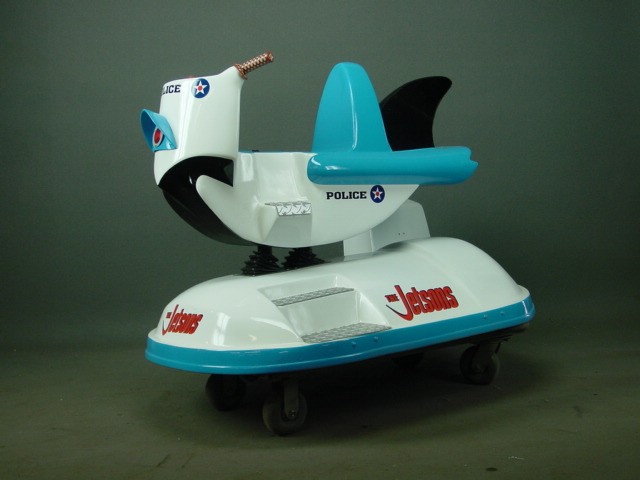 This classic Jetsons vending ride seen at malls and supermarkets would be a perfect addition to vintage cartoon museum or a offbeat tradeshow prop for a tech company wanting to evoke memories of just how far the world has come.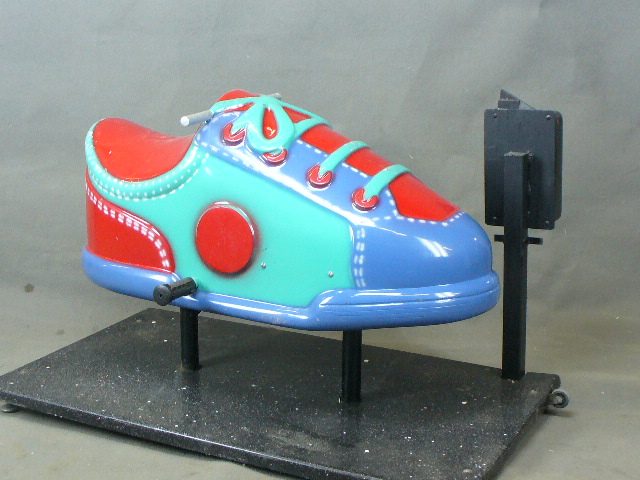 This is a very unique kiddy ride. Obviously it would fit perfectly at any shoe store or athletic venue. We could put the whatever logo on you like – Nike, Puma, UnderArmor, etc.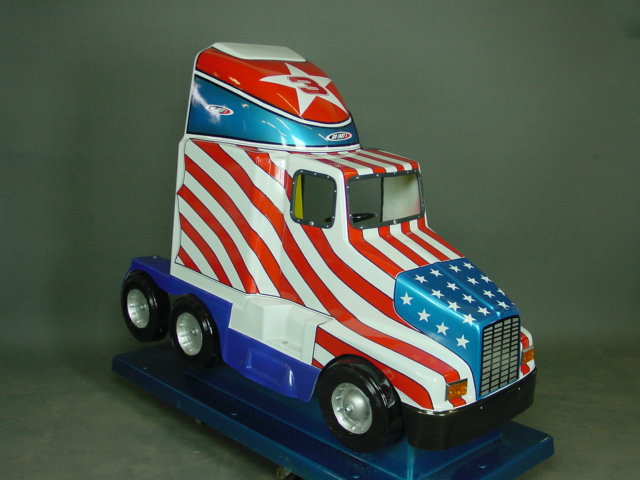 Appeal to the power of the Red, White, and Blue. This quarter operated semi is one kid's can get into and make their dreams come to life. This truck can also be custom painted like the flag of Mexico.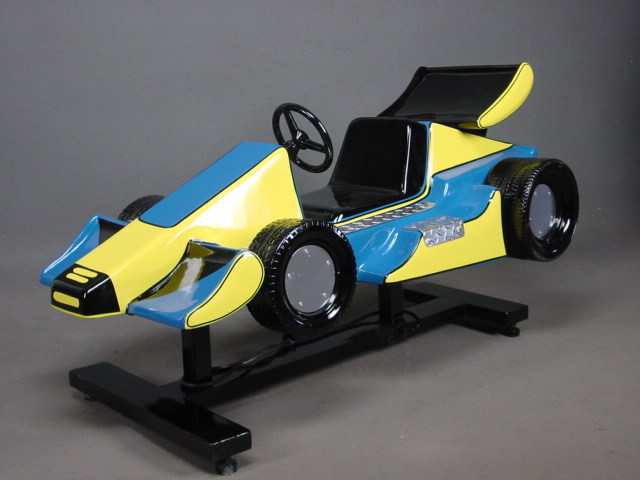 "Gentleman, start your engines!" Bring the thrill of the Indianapolis 500 or a Formula 1 race to your family entertainment center or a tot's bedroom. Unlike at most racetracks, no ambulance will need to be on standby when a rider starts the engine.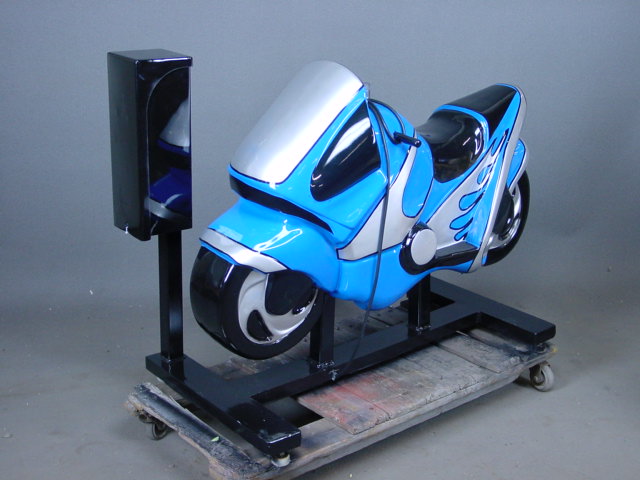 Fun little racing motorcycle that only costs a quarter to ride!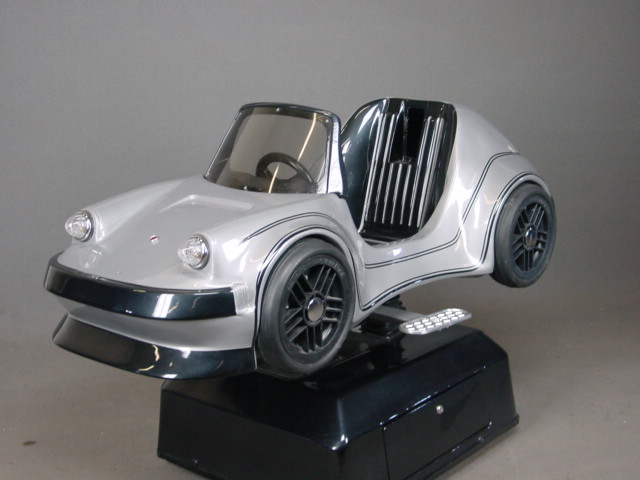 This replica of the famous German sports car will have kids screeching their tires about the hairpin turns at your location. Hopefully the quarters will be enough to remove all the skidmarks.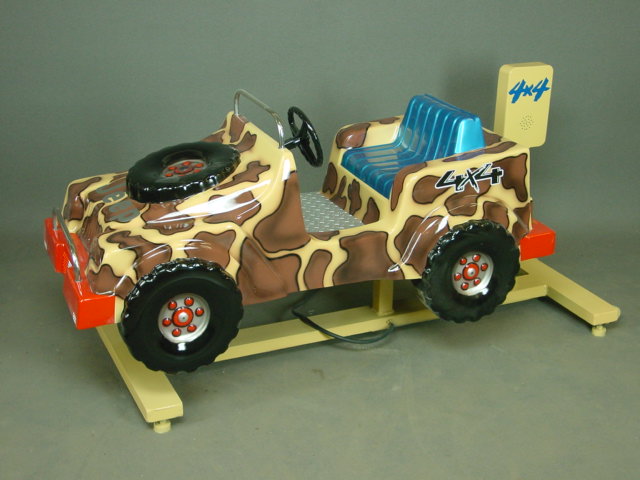 This giraffe-themed jeep is a real head turner at any location where wildlife is the theme. (The jeep we have is not quite this same body style, but the paint scheme would be the same.)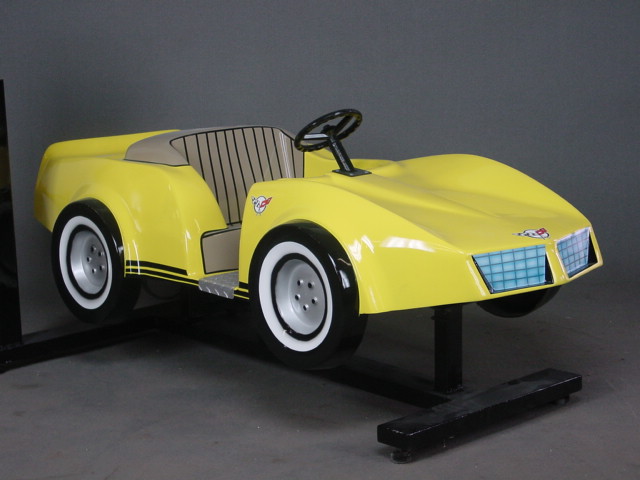 This classic ride modeled after the car made famous by Chevrolet is great for the car enthusiast's garage or earning quarters in a restaurant or family entertainment center.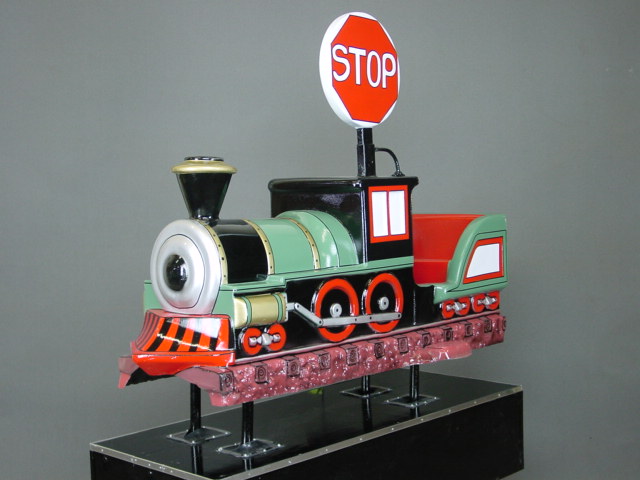 A Western train. Nothing conjures up images of the Old West quite like this quarter ride. This ride has been a favorite for decades.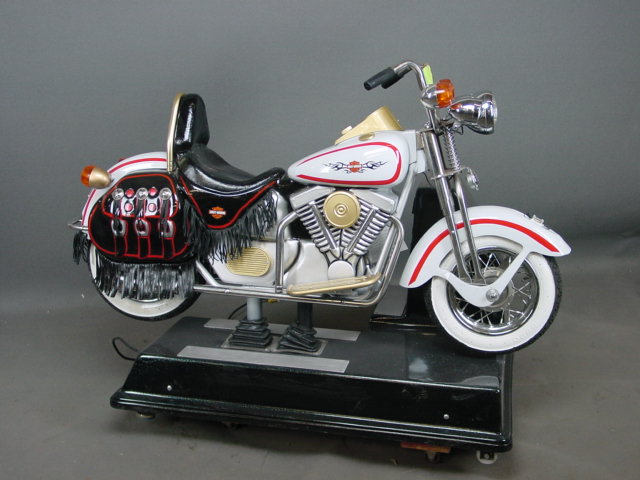 This coin-operated ride was inspired by the legendary Harley-Davidson Springer motorcycle. Great revenue producer or unbelievable toy for home for the Harley person who has everything.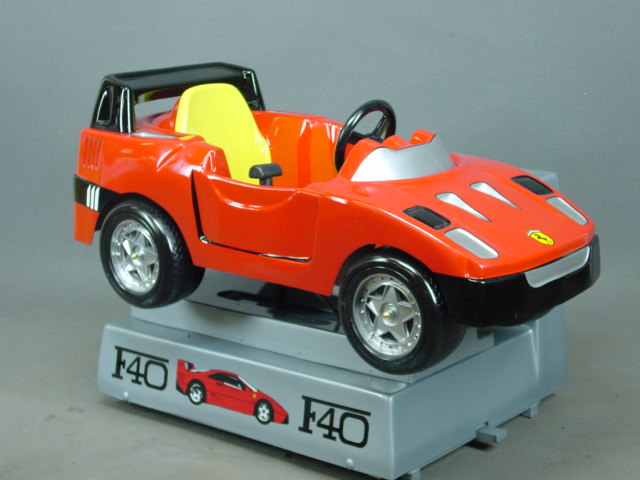 Super cool little coin operated miniature of the famous Italian speedster.